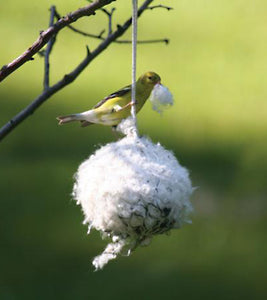 Bird's Choice Cottontail Nest Building Ball
Cottontail Nest Building Material is the perfect combination of 100% cotton and yarn tail to attract birds into your yard to build nests. It comes complete, ready to hang near your bird feeders and bird houses. Hummingbirds and goldfinches love it! It is enough to last all nest building season and is safe for the environment and for the birds.
Attached hanger. 2 oz.
Made in the USA
To learn more about hummingbird nesting please visit our article about hummingbird nesting and why dryer lint is bad for birds.