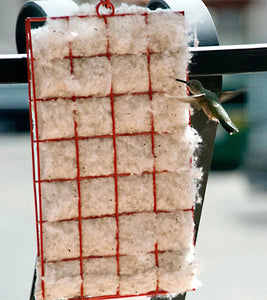 Hummer Helper Cage and Nesting
This is the ideal nesting material package specifically designed for use by hummingbirds. It comes complete with an anti-corrosive vinyl-coated metal grid hanger, attached hanging chain and S hook, and filled with raw cotton batting that hummingbirds prefer. Natural cotton is ideal because it is soft and dries quickly. 
Used by hummers primarily as lining inside the nest. Along with spider web and lichen it may also be used in the construction of the nest itself. The bright red metal grid holder lasts for many seasons and comes with enough material to last a full year.
A very large percentage of the material is exposed. This is important for two reasons:
Most importantly it ensures that after rain, the air quickly dries the material.
The holders cage also provides a very large access area and the bright red color
Both contribute to the Hummer Helper being readily used by hummingbirds and other backyard birds.
Goldfinches, especially Lesser Goldfinches, are secondary users.
Endorsed by the Hummingbird Society.
6" chain hanger with "S" hook, metal cage with red coating to attract hummers, 10 x 6 x 3/4 inches.
Refills available
Made in the USA.
To learn more about hummingbird nesting please visit our article about hummingbird nesting and why dryer lint is bad for birds.