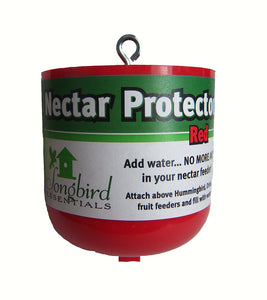 Nectar Protector - Red
This high quality plastic nectar protector fits between your hummingbird feeder and your hanger.
Ant-deterring moat holds 16 oz of water for less filling.
Deep, clear design shows when water level is getting low.
Great way to protect hummingbird, oriole, or fruit feeders.
This simple, inexpensive solution prevents ant invasions at your hummingbird, oriole and fruit feeders. Ants seem to find their way to these feeders, no matter where they're hung. With Nectar Protector, they never reach their goal. This apparatus installs above the feeder with the included hardware; you fill it halfway with water, and it traps ants before they can reach the feeder. Clear, construction lets you easily view water level.
4" diameter x 5" tall. Holds 16 oz. Made in the USA.
This ant deterrent holds 300% more than the next largest competitor. It's red, attracts the Hummers! Easy to clean concave bowl. Less maintenance as it holds 3 x's more! Strong - holds even the largest feeders!