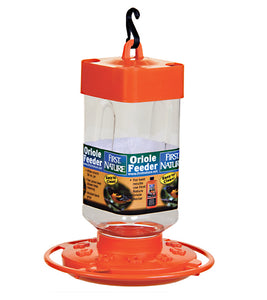 First Nature Oriole Feeder 32 oz
First Nature's 32 oz. Oriole Feeder's orange base will attract Orioles to your outdoor living space. The perch provides the perfect position for birds to comfortably feed at any of the ten ports. The wide-mouth reservoir is easy to fill and easy to clean.
The patented two-part base twists apart for thorough cleaning. All parts may be washed in warm soapy water. (Do not put any parts of this feeder in a dishwasher.)
Features :
The bright orange color attracts the most inquisitive orioles.
The durable polymer feeder features 10 feeding ports
32 ounce nectar capacity, and round perch design
Easy-to-fill wide-mouth jar reservoir and two-part base.
Spill-resistant due to innovative sealing ring aids in leak prevention
Easy to clean.
Feeders can be hung from hook or limb by the included S-hook.
Made in USA
Color

 

:

 

Orange

Size

 

:

 

7"D x 7"W x 9.25"H
To Fill: Before turning the feeder upside down, make sure the hummingbird feeder jar and base are empty. If there is still some nectar in the base you may want to do this over a sink. Unscrew jar from base and turn jar upside down to fill. While jar is still upside-down screw base back onto jar.
To Clean: Occasional cleaning can guard against disease. Remove the entire two-piece base from the jar to thoroughly clean the inside. Wash with warm soapy water and really rinse well. Hummingbird Market suggests you use dilute vinegar to kill off any molds.
Do not clean with scalding hot water or place in the dishwasher as this may deform parts.
Here in Tucson we have a Bullock's Oriole and a
Hooded Oriole visiting our yard simultaneously.