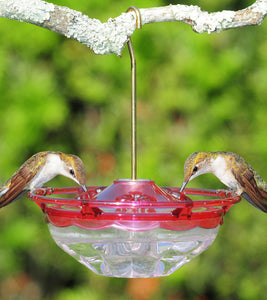 Aspects HummBlossom 4oz
The beautiful HummBlossom 4-ounce capacity feeders join the popular line of HummZinger feeders. These feeders are the ideal "mini" size for placing a grouping of feeders nearby, so these territorial hummingbird friends can each pick their own Blossom to feed from. The feeder includes a HighView™ perch that invites hummingbirds to rest comfortably as they drink from any of four feeding ports while also offering an unobstructed view of the birds. Bright colored cover attracts hummingbirds from a distance and is easily removed so the bowl can be cleaned quickly and thoroughly. Constructed of unbreakable polycarbonate.
Available in beautiful rose color— the HummBlossom feeders are as pretty as they are functional. As with all Aspects products, HummBlossom feeders are proudly manufactured in the USA and backed by a lifetime guarantee.
HighView™ perch for optimal viewing

Easy cleaning and filling

Drip and leak proof

3 feeding ports

4 ounce capacity

Rose

Dimensions 5" x 5.5" x 2.5"
Aspects' hummingbird feeders provide the perfect solution to any hummingbird's thirst. All of their hummingbird feeders are constructed of the finest materials available and are backed with a Lifetime Guarantee.